Para español, ver más abajo.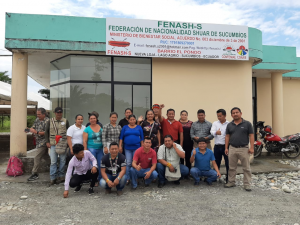 Indigenous leaders during the workshop. 
The increase in industrial activities to obtain raw materials and energy in the Ecuadorian Amazon puts the conservation of natural areas and the cultures that settle there at risk. A large part of these areas identified for resource development are also indigenous territories, and Indigenous Peoples have their own collective rights. As a result, it is necessary that the members of those Peoples have in depth knowledge of the rights that protect them, so that they can make their own informed decisions about their futures.
In this context, Equitable Origin and our partner, the Coordinator of Indigenous Organizations of the Amazon Basin (COICA), with the support of the Fundación Raíz Ecuador, carried out a participatory event called, "Knowledge-Building Workshop: Ensuring the Rights of Indigenous Peoples: From Consultation to Free, Prior, and Informed Consent (FPIC)." This event was held on July 31 and August 1, 2019 in the city of Lago Agrio, in the province of Sucumbíos in Ecuador, at the headquarters of the Federation Provincial of Shuar Centers of Sucumbíos (FECESH-S). The event was primarily attended by leaders and members of the Secoya, Siona, Kofán, Shuar and Kichwa Nationalities, all of which live in the Sucumbíos province.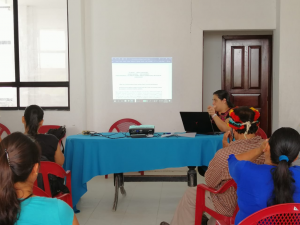 The workshop addressed issues related to international, regional and national regulations that guarantee the application of FPIC as a fundamental right of Indigenous Peoples to give, withhold, or withdraw consent for industry and/or government interventions in their territories. The event included a number of high-level case studies, where practical examples of the application of Indigenous Rights were analyzed by a representative of the Amazon Frontlines organization, Dr. María Espinosa. Guest speaker Dr. René Ortiz, an advisor to EO, discussed pioneering ideas on the rights of ownership of natural resources in favor of Indigenous Peoples, as a recognition of their historical presence in the Amazon. Finally, participants discussed and provided thoughts on the impending launch of an EO - COICA initiative to create the Resource Hub for Strengthening Indigenous Peoples Rights, a digital platform that will serve as a repository of information on FPIC. The hub will also feature resources on procedures and opportunities for Indigenous Peoples to demand redress, particularly in cases of absent or ineffective application of the principles of FPIC during a particular natural resource development project. The workshop also informed participants about the ongoing development of the EO FPIC-360° tool, which will help Indigenous Peoples to evaluate and monitor the effective application of FPIC standards.
 In all, the workshop discussions and activities provided crucial information and tools to facilitate informed decision-making and consent by Indigenous Peoples, within the framework of the rights that they are afforded by international and national laws and standards.
___________________________________________________________________________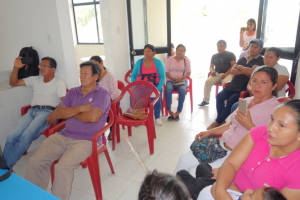 El incremento de las actividades industriales para la obtención de materias primas y de energía en la Amazonía ecuatoriana, pone en riesgo la conservación de las áreas naturales y de las culturas que ahí se asientan. A sabiendas que una gran parte de esas áreas corresponden a territorios indígenas, y, que los Pueblos Indígenas tienen derechos colectivos y propios, es necesario que los miembros de esos Pueblos conozcan a profundidad sobre los derechos que los amparan, para poder tomar decisiones con conocimiento de causa.
En este contexto,  la Coordinadora de Organizaciones Indígenas de la Cuenca Amazonia-COICA, y su aliada la Fundación Equitable Origin-EO, con el apoyo de la Fundación Raíz Ecuador, realizaron una actividad participativa denominada "Minga de Conocimientos, Asegurando los Derechos de los Pueblos Indígenas: De la Consulta al Consentimiento Previo, Libre e Informado-CPLI." Este evento se realizó el 31 de julio y el 1 de agosto de 2019 en la ciudad de Lago Agrio, provincia de Sucumbíos-Ecuador, en la sede de la Federación Provincial de Centros Shuar de Sucumbíos- FECESH-S. Asistieron principalmente dirigentes y miembros de las Nacionalidades: Secoya, Siona, Kofán, Shuar y Kichwa que habitan en esta provincia.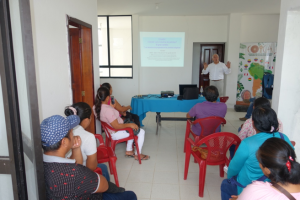 En esta minga se abordaron temas  relacionados con la normativa internacional, regional y nacional que garantizan la aplicación de la CPLI como un derecho fundamental de los Pueblos Indígenas para permitir o no la intervención industrial y/o administrativa gubernamental en sus territorios. Debemos recalcar que hubo ponencias de alto nivel en donde se analizaron casos prácticos de aplicación de los Derechos Indígenas por parte de la representante de la organización Amazon Frontlines, la Dra. María Espinosa; se propuso  también ideas pioneras sobre los derechos de propiedad de los recursos naturales a favor de los Pueblos Indígenas, como un reconocimiento a la presencia histórica de ellos en la Amazonia, esta disertación la llevó a cabo el Dr. René Ortiz, advisor de EO. En esta minga de conocimientos se lanzó al mundo la iniciativa para crear una plataforma digital de Fortalecimiento de los Pueblos Indígenas, un repositorio de información y procedimientos de cómo hacer una demanda para atender casos de nula o mala aplicación de la CPLI; aprovechamos esta minga además, para informar a los participantes sobre el desarrollo de  la herramienta CPLI 360°, la cual servirá  a los Pueblos Indígenas para evaluar y monitorear las aplicación efectiva de la CPLI.
Estamos seguros que es estas actividades brindan elementos sustanciales y aportan con herramientas para facilitar la toma de decisiones y emitir el Consentimiento por parte de los Pueblos Indígenas en el marco de los derechos que los amparan.