Governance
Equitable Origin's governance structure is made up of five bodies. Click each box to visit the committee page: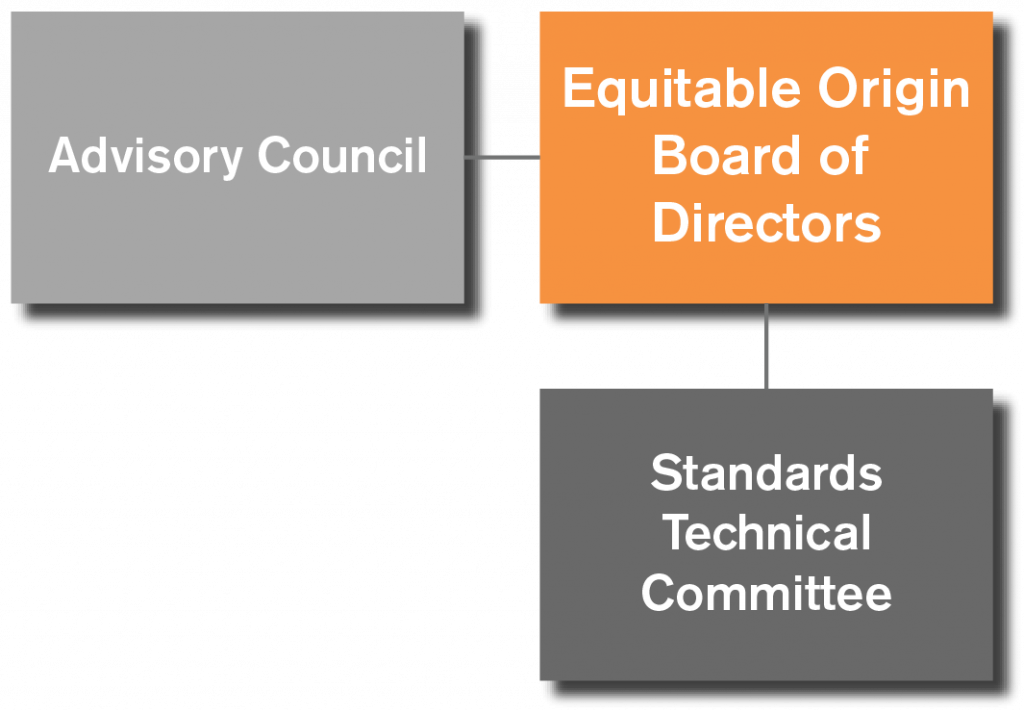 Equitable Origin's governance structure is made up of four bodies:
The Equitable Origin (EO) Board of Directors is a stakeholder-based body that governs Equitable Origin Inc., a nonprofit organization incorporated in the U.S. Its primary responsibility is to ensure that the goals and activities of EO support and advance the mission of the organization.
The Board of Directors is comprised of up to 15 Directors, which are elected to terms of three years, which may be renewed once consecutively. Each Director represents one of the three following stakeholder groups:
Non-Profit Directors: Directors who are affiliated with non-profit organizations, including non-governmental organizations, seeking changes in energy development practices, the use of energy in the supply chain, or the reduction in the consumption of certain types of energy for reasons associated with climate change and/or the need for renewable sources of energy
Industry Directors: Directors who are affiliated in a professional capacity with the energy industry or are affiliated with companies using energy in the manufacturing and distribution of their final consumer products, or are affiliated with energy utility companies
Independent Directors: Directors who are not directly affiliated in any capacity with any corporation, non-governmental organization linked to, or focused on, energy production, or any form of business entity involved with the energy industry
Indigenous Directors: Directors who are Indigenous and have experience with energy, natural resources development and/or human rights.
The EO Board also includes one Management Director acting as a representative of the Senior Management Team to serve with voice, but not vote, in all decisions of the Board.
In addition to its aforementioned responsibilities, the Board of Directors is the custodian of Equitable Origin standards and is responsible for their development and communication, as well as for the design and implementation of EO's assurance and certification procedures. The Board is also responsible for enforcing EO's Policy on Association.
The Board makes material decisions and approvals through a "super-majority" vote, which requires that a majority of the three stakeholder groups approve critical decisions and guarantees that no one stakeholder group can be overruled by a simple majority of the board.
The Advisory Council, a collection of professionals with expertise in energy development impacts, standards-setting, and certification, provides the EO management and Board of Directors with advice and feedback.
The Standards Technical Committee's primary function is to provide expert technical guidance to the Board of Directors on Equitable Origin standards and certification processes.