Para español, ver más abajo.
With the objective of sharing international experiences in social impact assessments (SIAs), community consultations and Human Rights protection, EO and ANUIES, the National Association of Universities, initiated a new cycle of trainings geared towards applying the EO100TM Standard as a framework for SIAs in Mexico, with the support of the Mitsubishi Corporation Foundation of the Americas.
Approximately 30 professors and researchers from the Autonomous University of Yucatan participated in the first training last month. An opening event was held with the participation of the university authorities.
Continuing our capacity building activities developed in 2017, the new cycle of trainings for 2018 includes two modules: the first one, for new participating universities, focuses on participatory methodologies of impact assessments under the EO100TM Standard.
The second module, is oriented to universities that participated in the 2017 cycle, and aims to strengthen the universities' engagement mechanisms to participate in local social assessment processes.
In total, EO and ANUIES expect to implement eight more courses throughout the year, including open courses in Mexico City and Monterrey. We will continue our commitment to strengthen the capacities of the academic and community sectors to participate objectively and scientifically in impact assessments in their territories.
For more information, please contact us: [email protected]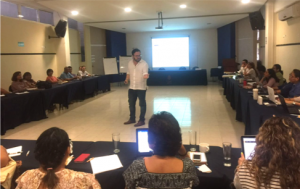 El Estándar EO100TM: un marco para los estudios de impacto social en México
Con el objetivo de aportar experiencias internacionales en la realización de estudios de impacto social, consultas con las comunidades y la protección de los Derechos Humanos, EO y ANUIES han iniciado un nuevo ciclo de capacitaciones en el marco del proyecto de Metodología de Evaluación de Impacto Social bajo el Estándar EO100TM, financiado por la Fundación de la Corporación Mitsubishi.
Durante el mes pasado, la Universidad Autónoma de Yucatán participó en la realización del primer curso del año, que contó con la asistencia de aproximadamente 30 personas y un evento de inauguración con las autoridades de la institución.
En continuidad a las actividades de construcción de capacidades iniciadas en 2017, el nuevo ciclo de capacitaciones para 2018 incluirá dos módulos diferenciados: el primero dirigido a universidades que participan en el curso por primera vez, está orientado a metodologías participativas de evaluación de impacto social bajo el Estándar EO100TM.
El segundo módulo, dirigido a universidades que participaron en el módulo 1 durante 2017, tiene como objetivo encontrar oportunidades de fortalecimiento de la vinculación universitaria a procesos locales de evaluación de impacto social.
En total, EO y ANUIES esperan implementar 8 más cursos durante 2018, incluyendo cursos abiertos en México DF y Monterrey. Continuamos comprometidos con el fortalecimiento de las capacidades del sector académico y comunitario para participar de manera objetiva y científica en los procesos asociados con las evaluaciones de impacto social en sus territorios.
Para más información, favor de ponerse en contacto con nosotros: [email protected]