Para español, ver más abajo.
EO organized a workshop in Muna, in the Yucatán Peninsula of Mexico, to train indigenous representatives on social and environmental impact assessments; Free, Prior and Informed Consent (FPIC); and Human Rights.
The training was conducted in partnership with the Centro Mexicano de Derecho Ambiental (CEMDA), and included the participation of more than 30 indigenous representatives.
The workshop was relevant for this community as they are involved in a conflict related to the proposed development of a 500MW solar energy project in their area of influence. In 2016, the Mexican government awarded a contract to develop a solar park on 762 hectares of jungle in the Yucatán Peninsula.
The objective was to train the community on FPIC monitoring tools, and to increase the community understanding of the Social Impact Assessment conducted by the company and approved by the Mexican Energy Ministry (SENER). The training was based on the EO100™ Standard  for Responsible Energy Development.
The mega-project (named Ticul A and Ticul B), would become one of the largest solar in Latin America, and includes 1.2 million solar cells. The project was postponed, however, after indigenous members of the community filed a complaint before the Inter-American Commission on Human Rights, arguing that the Mexican government did not conduct an open and informed consultation with the community before awarding the project, as required by Mexican law.
Mexico's energy laws mandate that the Energy Ministry (SENER) carry out a consulta previa to obtain prior and free consent from indigenous communities that could be affected by an energy project. Since the laws came into effect as part of Mexico's energy reform in 2014, SENER has initiated 14 projects asking for consulta previa (13 of these affecting indigenous communities); Only 9 had secured consent, while the other 5 remain contested.
Even "clean" energy projects need to consider impacts on local stakeholders and ecosystems, and adopt effective engagement strategies to ensure the rights of communities and Indigenous Peoples are respected in the transition to renewable energy.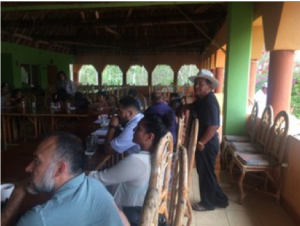 Relaciones Comunitarias y Energía Renovable
EO organizó un taller diseñado para capacitar a las comunidades indígenas de la zona de Muna, en Yucatán, México, sobre las características del Consentimiento Previo, Libre e Informado –CPLI - los estándares de estudios de impacto social y ambiental, y mejores prácticas internacionales sobre protección de los Derechos Humanos para proyectos energéticos.
En el taller participó también el Centro Mexicano de Derecho Ambiental (CEMDA), y contó con la asistencia de aproximadamente 30 personas.
El parque solar, fue subastado en 2016 por el gobierno mexicano, y requiere 762 hectáreas de selva mediana.
El objetivo del taller fue fortalecer las capacidades de los participantes para monitorear un proceso efectivo de Consentimiento Previo, Libre e Informado, y además, incrementar el entendimiento por parte de la comunidad sobre la Evaluación de Impacto Social (EVIS) que realizó la compañía y que fue aprobado por SENER. El taller se realizó bajo el marco del Estándar de EO100™ para el desarrollo responsable de energía.
El mega-proyecto, denominado Ticul A y Ticul B, sería uno de los parques de energía solar más grande en América Latina con más de un millón de paneles solares. Sin embargo, el proyecto se detuvo después de que la comunidad se quejó, en un foro de la Comisión Interamericana de Derechos Humanos en diciembre de 2016, que el Estado mexicano no los había consultado de acuerdo a la legislación.
Las nuevas leyes de México exigen que el Ministerio de Energía (SENER) realice una consulta previa para obtener el consentimiento previo y libre de las comunidades indígenas que podrían verse afectadas por un proyecto de energía. Desde que las leyes entraron en vigencia como parte de la reforma energética de México en 2014, SENER ha iniciado 14 proyectos solicitando consultas previas (13 de estas afectan comunidades indígenas); solo 9 obtuvieron el consentimiento, mientras que los otros 5 siguen siendo disputados.
Incluso los proyectos de energía limpia deben considerar los impactos en las partes interesadas y los ecosistemas locales, y adoptar estrategias de consultación efectivas para garantizar que los derechos de las comunidades y de los Pueblos Indígenas sean respetados en la transición a la energía renovable.