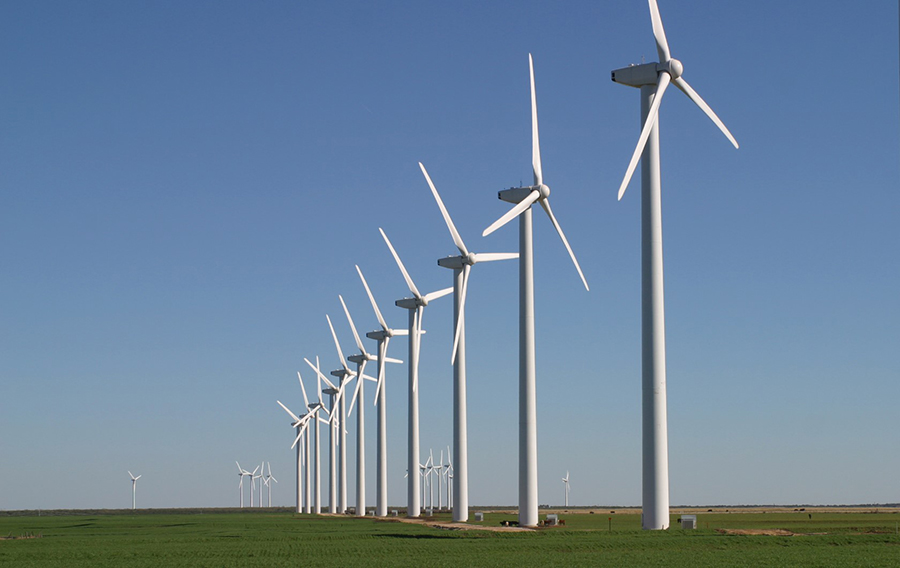 A wind farm in Texas. (credit: "GreenMountainWindFarm Fluvanna 2004" by Leaflet - Own work. Licensed under CC BY-SA 3.0 via Wikimedia Commons).
Before the COP21 climate summit officially kicked off on November 30th, renewable energy had already received a major boost. The previous day, a group of billionaires led by Bill Gates used the occasion of COP21 to announce the formation of the Breakthrough Energy Coalition, an initiative to "invest early, broadly, boldly, and wisely" in clean energy research and technical innovation to speed the transition to a no-carbon future. Days later, India's Prime Minister Narendra Modi announced a Solar Alliance of 120 countries committed to investing in more affordable and more widespread deployment of solar power.
The final agreement ratified by 195 nations on Saturday leaves no doubt that the urgency, investment, and political will in favor of expanding renewable energy development have aligned on a global scale like never before. The Paris Climate Accord is a collection of coordinated commitments by individual nations to reduce domestic carbon and other greenhouse gas (GHG) emissions. Although the pathways to these reductions will vary widely from one country to the next, an intense ramping-up of renewable energy is expected to be a common trend. As the New York Times explained, "If nothing else, analysts and experts say, the accord is a signal to businesses and investors that the era of carbon reduction has arrived," and is expected to drive an increase in the $600 billion invested in clean energy globally last year.
The agreement is a momentous step forward for the world, and one that will likely prove to be a turning point in the fight against climate change. But a rush to de-carbonize the energy system with renewable energy development that lacks proper planning and safeguards could profoundly disrupt local communities and irreversibly damage local ecosystems. Like all large-scale industrial development, renewable energy projects can have major impacts on people and the environment, including changes in land rights and land use, threats to endangered species (as well as to other wildlife) and their habitats, and inadequate or even a complete absence of consultation with local communities by project developers.
Our announcement in August that EO was expanding into renewable energy was, in part, an acknowledgement of the global boom in renewable energy development and an expectation of that trend's acceleration following COP21. Our exploration into how the Equitable Origin System could be applied to renewable energy projects started with a recently-completed case study on wind power development in Oaxaca, Mexico. Our research revealed a pattern of Indigenous Peoples opposing wind energy development in their territories, often because they were not properly consulted by government authorities or energy companies, and because they believe that their rights and interests are not being respected.
We are committed to helping renewable energy developers implement responsible practices and avoid repeating the mistakes made by fossil fuel companies in decades past. The situation in Oaxaca, marked by social conflict in indigenous communities and environmental concerns over energy development demonstrates the need for voluntary standards to ensure renewable projects are not delayed or derailed. Equitable Origin certification of a renewable energy site provides assurance that the project meets local, national, and international human rights, social and environmental regulations and standards through independent verification.
With the momentum and pledges of support from COP21, bigger and faster renewable energy development around the world is a certainty. Current renewable energy development practices and community opposition in Oaxaca are ominous signs that the coming boom in renewables development could cause widespread social disruption and environmental damage.
But the renewables boom also offers an opportunity for energy companies and other stakeholders to learn from the mistakes of the past and start off right by adopting the highest standards for social and environmental performance from the beginning. As we embrace this opportunity, all of us at Equitable Origin are eager to lend our expertise and experience to a responsible worldwide renewable energy boom and the brighter climate future it can create.
Click to download the research paper authored by Equitable Origin, "Defining and Addressing Community Opposition to Wind Development in Oaxaca."