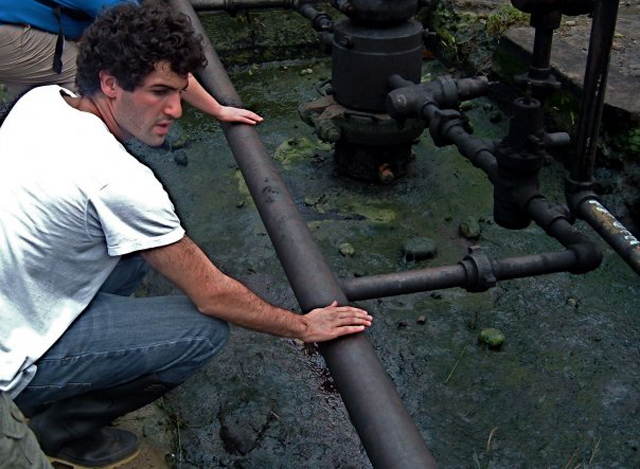 EO President and Co-Founder David Poritz, the co-star of "Oil and Water" in the Amazon jungle as a teenager.
In many ways, Equitable Origin began in a middle school classroom in Amherst, Massachusetts in 2001. That's the place and time that, at the age of 14, EO President and Co-Founder David Poritz began to discover his passion for defending the people and nature of the Amazon jungle. You can read a brief version of the rest of the story...or you can experience it in your own home.
The documentary film "Oil & Water" is now available for home rental through the Equitable Origin Website! Sign up for a free Vimeo.com account and pay $5.99 (via credit card or PayPal) to stream the full movie for 24 hours from any connected device--click the player below to begin. Once you've experienced the story of how EO came to be, we ask you to join us in our mission by making a tax-deductible donation through our secure online system.

— For Home Use Only —
"Oil & Water" picks up the history of EO in that Amherst classroom and takes the audience along for an exciting ride through six years of David's life and deep into the Amazon to visit the indigenous communities that inspired him. The film deftly intertwines David's story with that of Hugo Lucitante, a member of the Cofán indigenous community who befriends David through their shared devotion to cleaner and more equitable oil industry and a brighter future for the Indigenous Peoples of the Amazon Basin.
A fascinating story, stunning visuals of the Amazon rain forest in all its natural glory, characters that grow and change, and unvarnished probing of complex and controversial issues--from natural resource management to corporate social responsibility to Indigenous Peoples rights--make this film a rich and thought-provoking experience.
Please click the player above to watch the film and share it with friends and family by sending a link to this page. And if the film inspires you to support EO's mission to protect people and the environment by ensuring energy development is conducted under the highest social and environmental standards, we hope you'll make a donation in any amount you're comfortable with through our secure online system.
Happy viewing! More information about "Oil & Water" is available at oilandwaterdocumentary.com. Thank you for watching and supporting.