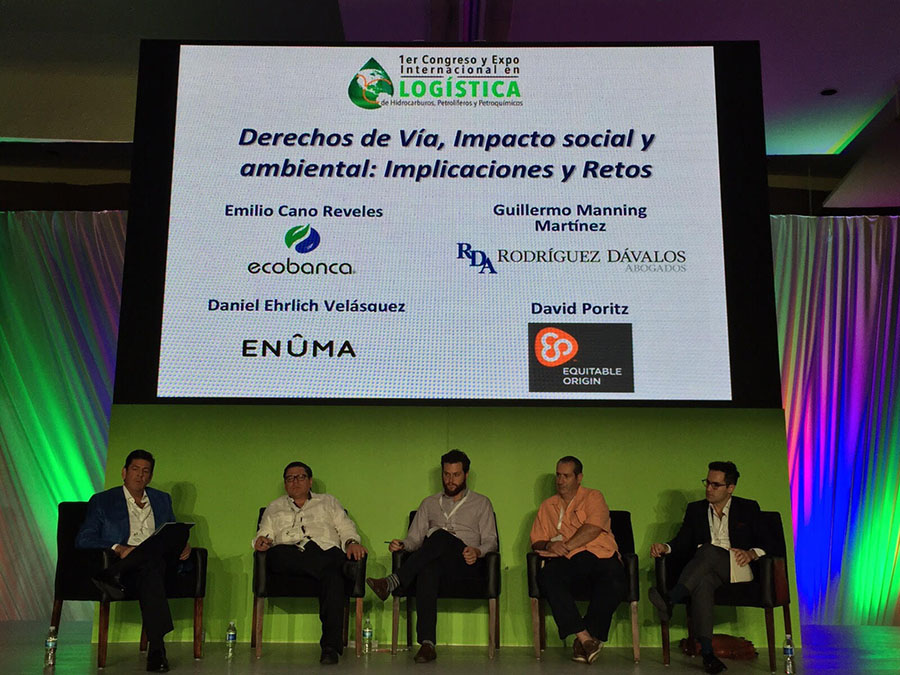 EO President and Co-Founder on stage for a panel discussion at the PEMEX International Congress and Exhibition on Hydrocarbons, Petroluem, and Petrochemical Logistics in Veracruz, Mexico.
Mexico is in the midst of a historic turning point for its energy industry. Over the last three years, major reforms have opened up the Mexican energy landscape to foreign development and investment more completely than at any time in the last seven decades. As a result, an estimated $220 billion in investment opportunities are available in the newly-liberalized private energy sector. With so many opportunities available, a Mexican energy development boom is all but assured--the country holds massive oil and gas reserves, as well as substantial wind and solar energy potential. Low oil and gas prices have tempered the interest of international exploration and development companies in the short term, but when prices rebound, Mexico will see an unprecedented boom in oil and gas drilling.
With a development boom on the horizon, opportunities for EO's unique approach to ensuring the highest levels of social and environmental performance by energy developers is poised to make a major positive impact in Mexico. The EO100 Standard, site certification, and other EO services are best applied early on in development projects, so the timing for EO's involvement in the remade Mexican energy sector couldn't be better. EO has been engaging with stakeholders in Mexico for years and is on the verge of major announcements about partnerships and future projects in the country.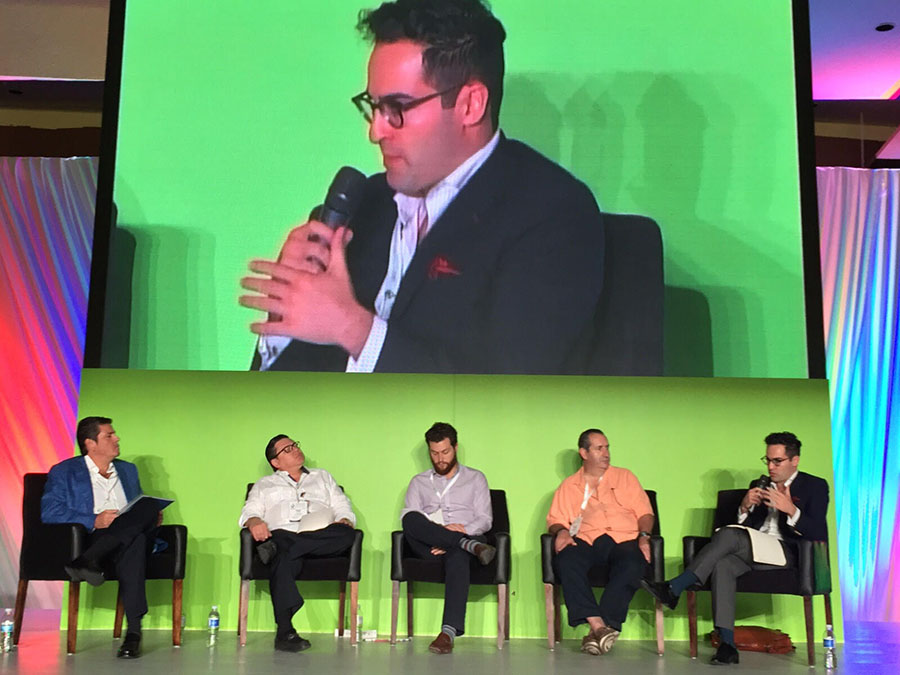 Poritz speaks during his panel session at the PEMEX congress.
With all of this in mind, EO President and Co-Founder David Poritz took the stage at the First Annual International Congress and Exhibition on Hydrocarbons, Petroluem, and Petrochemical Logistics in Veracruz, Mexico on Thursday. Organized by national oil company Petróleos Mexicanos (PEMEX), the Congress was a broad-based meeting of international players in the new energy market who gathered to discuss the best ways to build an efficient and responsible energy industry under the new regulatory structure.
Poritz presented as part of a panel discussion titled "Rights of Way, Social and Environmental Impacts: Implications and Risks," which focused on impacts of oil and gas pipelines, but included discussion about the Mexican oil and gas industry as a whole. As an expert in standards and certifications in the energy industry, Poritz explained that compliance with existing laws and regulations is not enough for companies to manage their risks. "Better safeguards are needed for companies to reduce the risk of social and environmental conflict that can slow or stop development projects," Poritz stated. While legal compliance is of course important, it should be seen as the bare minimum for risk mitigation, and going beyond legal requirements for social and environmental performance is a crucial and worthwhile investment for all project operators, he elaborated.
He presented EO's work with energy companies in Colombia and Peru as examples of an innovative, efficient, and effective approach to social and environmental risk (also known in the industry as "above ground" risk) management. The Canadian firm Pacific Exploration and Production (formerly Pacific Rubiales Energy) achieved EO certification of its oil fields in Colombia by improving practices there, and in doing so improved their social and environmental standing. Oil and gas companies operating in Peru recently took a historic step toward reversing the adversarial and sometimes violent relationship with Indigenous Peoples by attending an EO-organized forum on improving community engagement practices. In both these cases and others, the EO System and EO100 Standard for responsible energy development provided the additional safeguards and other building blocks for companies to streamline operations and reduce above ground risks.
Poritz concluded by explaining that these fruitful efforts can and should be emulated in Mexico. With the reformation of the Mexican energy sector comes the opportunity to start fresh and do things the right way, and in doing so bring benefits to all stakeholders in energy development, including local and indigenous communities, while reducing the risks of costly social conflict and environmental disruption. With the help of EO and other independent experts, the new energy industry in Mexico could become a model for social and environmental excellence in Latin America and around the world.
Keep an eye on the EO blog for more updates on how EO and its partners in Mexico are already working to make that vision a reality.