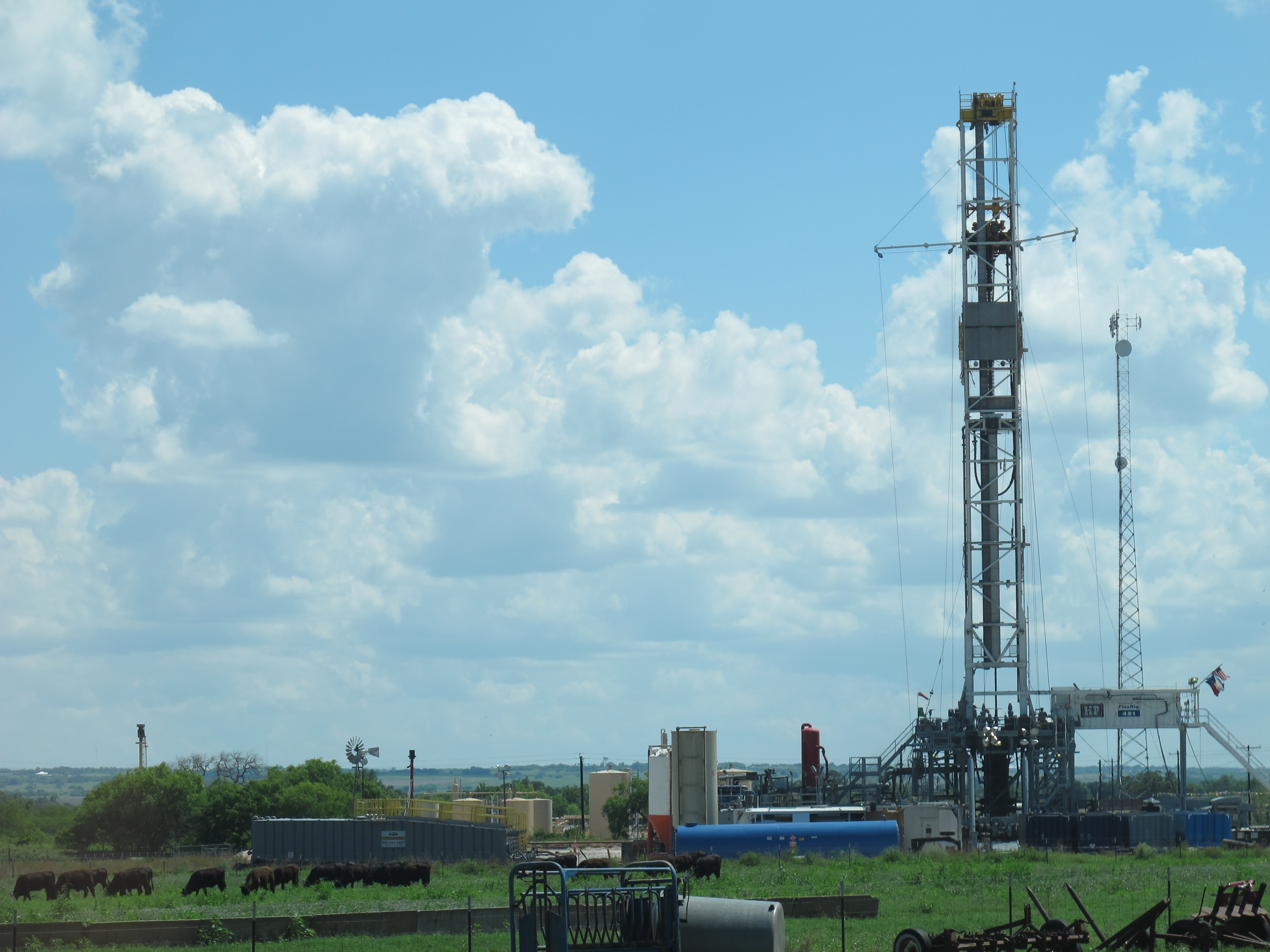 A drilling rig rises over cattle in a pasture in the Eagle Ford shale region of Southeast Texas.
Since the release of our draft standards for shale development, we have been focusing a lot of our attention on fracking. As we review and refine the draft standards, we at Equitable Origin want to know: what are the most pressing public health and environmental risks posed by fracking operations, according to the latest scientific research? What are the best practices industry can use to minimize those risks?
Those questions led me to San Antonio, Texas for the Interfaith Center on Corporate Responsibility (ICCR) Annual General Meeting in early June. ICCR is a faith-based shareholder activist group that uses its ownership of corporate stock to advocate for companies' improvement of their social and environmental practices. I was invited to the meeting to represent EO, which became an affiliate member of ICCR in February, and present our draft shale standards to the organization's leaders and members. Given the meeting's location on the margins of one of the most productive shale development regions in the U.S., the Eagle Ford shale formation, it was fitting that a significant portion of the event was dedicated to identifying and mitigating the negative impacts of shale development.
At the meeting, I joined a panel discussion focused on the water impacts of shale development. On the panel was Dr. Zacariah Hildenbrand, a biologist and co-founder of the environmental consulting firm Inform Environmental, an independent source of data on the impacts of oil and gas drilling that can impact peoples' health. Dr. Hildenbrand gave a preview of the results of a study he had conducted on fracking chemicals in water wells near shale operations. The results of his study were published just two weeks later, and showed elevated levels of the carcinogenic chemicals benzene and toluene in 381 of 550 water well samples. The study, perhaps the most comprehensive of its kind to date, is one of a number of recent findings linking ground water quality issues to shale development. Although it does not conclusively determine that the chemicals found in water samples were from nearby shale operations, the study clearly indicates the urgent need for more scientific study of the issue and makes a strong case for higher operating standards for shale developers to protect ground water resources.
For my part of the panel, I presented an overview of how EO's draft shale standards could reduce water risks (there are 20 provisions in the draft standards related to water conservation and quality) and requested feedback on the shale standards. The ICCR audience was supportive of EO's pragmatic, on-the-ground approach, and offered constructive feedback on how to make the draft shale standards for accessible to communities and more effective at improving industry practices.
On my final day in San Antonio, I joined a tour of shale development sites and oil and gas infrastructure led by another member of the water panel, Sister Elizabeth Riebschlaeger. An irrepressible force driven by determination to shed light on the plight of those in need, Sister Elizabeth is a self-made expert on all issues relating to shale development in Texas. Her work with the Sisters of Charity of the Incarnate World and her deep Texas roots led Sister Elizabeth to begin offering all-day driving tours to show the reality of shale development in the Eagle Ford region to anyone who's interested.
The first thing I noticed on the tour was just how many buildings and vehicles in the area were tied to oil and gas production. Along the rural highways that we travelled, we could hardly drive for more than ten minutes without seeing an old-fashioned oil pumpjack, a natural gas compressor station, a tower for a new drilling operation, or a bright orange stream of flame bursting from a tall metal pipe—a flare for burning off uncaptured natural gas. Big rigs carrying huge sections of pipe and other oil and gas equipment seemed to appear every couple of miles. To be sure, we were smack in the middle in oil and gas country.
Looking at the various buildings and equipment dotting the otherwise undeveloped landscape, the oil and gas infrastructure seemed relatively harmless—the sites appeared clean and organized for the most part, and the kind of egregious environmental destruction EO's founders experienced in the Ecuadorian Amazon was nowhere to be found. Of course, appearances do not tell the whole story. Throughout the trip, Sister Elizabeth shared anecdotes of working with local residents who had felt some of the worst effects of shale development—from sick pets and livestock to poor air quality—and had few options, if any, to effectively address their problems.
The most memorable stop on our tour was in the town of Nordheim, a quiet rural community with a population of about 300. Plans are in place to construct two disposal sites on the outskirts of Nordheim that would receive solid waste from shale operations across the region. After a delicious lunch at the Nordheim Shooting Club Recreation Hall, we heard from local residents and community leaders concerned about how the planned waste sites would affect their wellbeing, specifically the health of the town's children, who could end up breathing fumes from one of the waste sites that's to be located less than a mile from Nordheim's school. Each of the speakers from Nordheim made clear that they did not oppose fracking or oil and gas development, but they did think siting waste facilities that would be handling toxic chemicals near their town was an unfair decision that put them and their families at risk unnecessarily.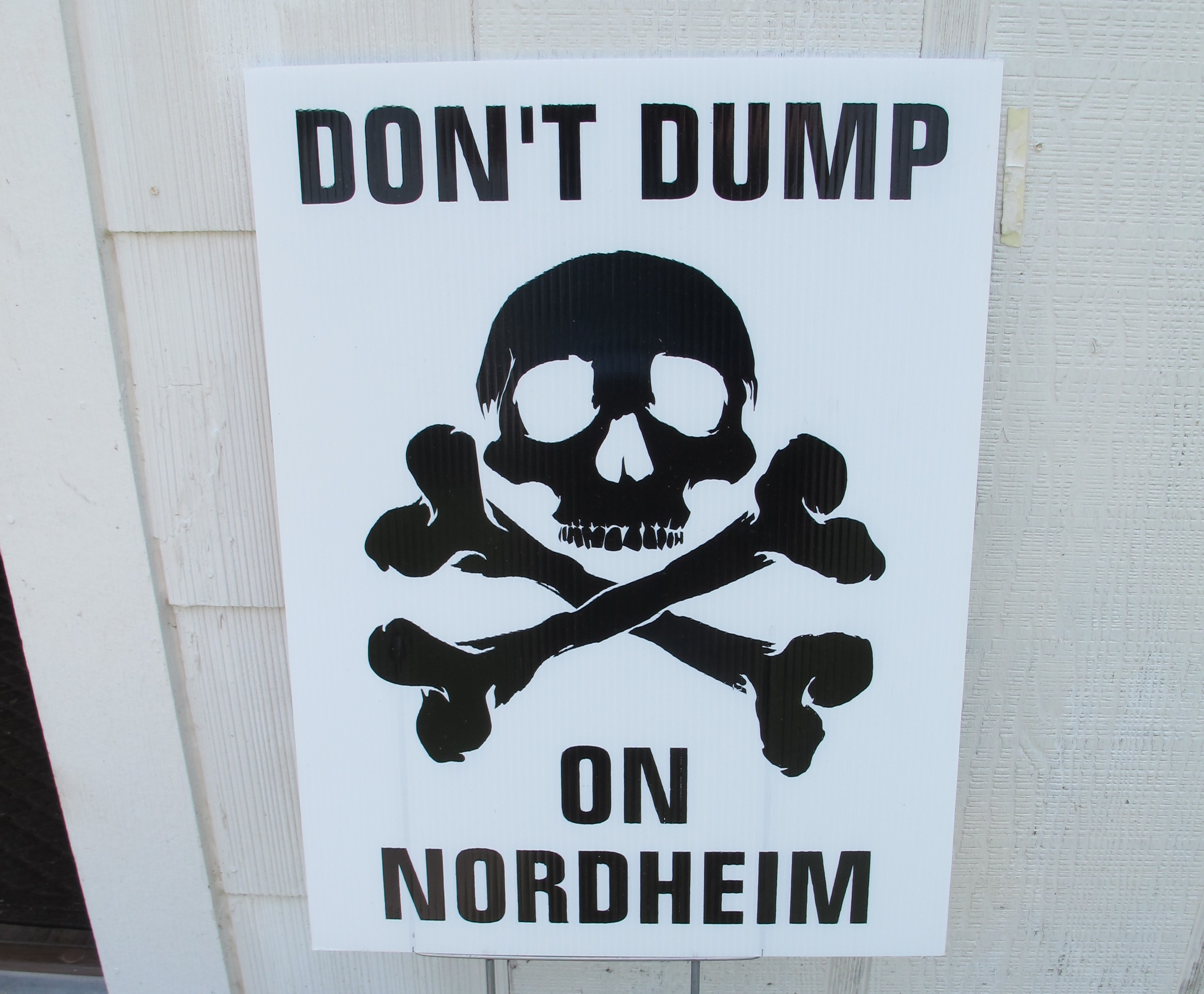 A sign outside of the Nordheim Shooting Club Recreation Hall. Citizens of Nordheim, Texas have organized resistance to plans to put fracking waste disposal facilities near their town.
For now, the EO100 Standard and draft shale standards do not apply to waste facilities, so Equitable Origin can't provide any direct assistance to the people of Nordheim. But their situation is similar in many ways to those of communities around the U.S. who could benefit from EO's work. Thousands of Americans who are feeling the negative effects of shale development are not getting the information, support, or constructive dialogue they need from regulators or the companies working in their communities.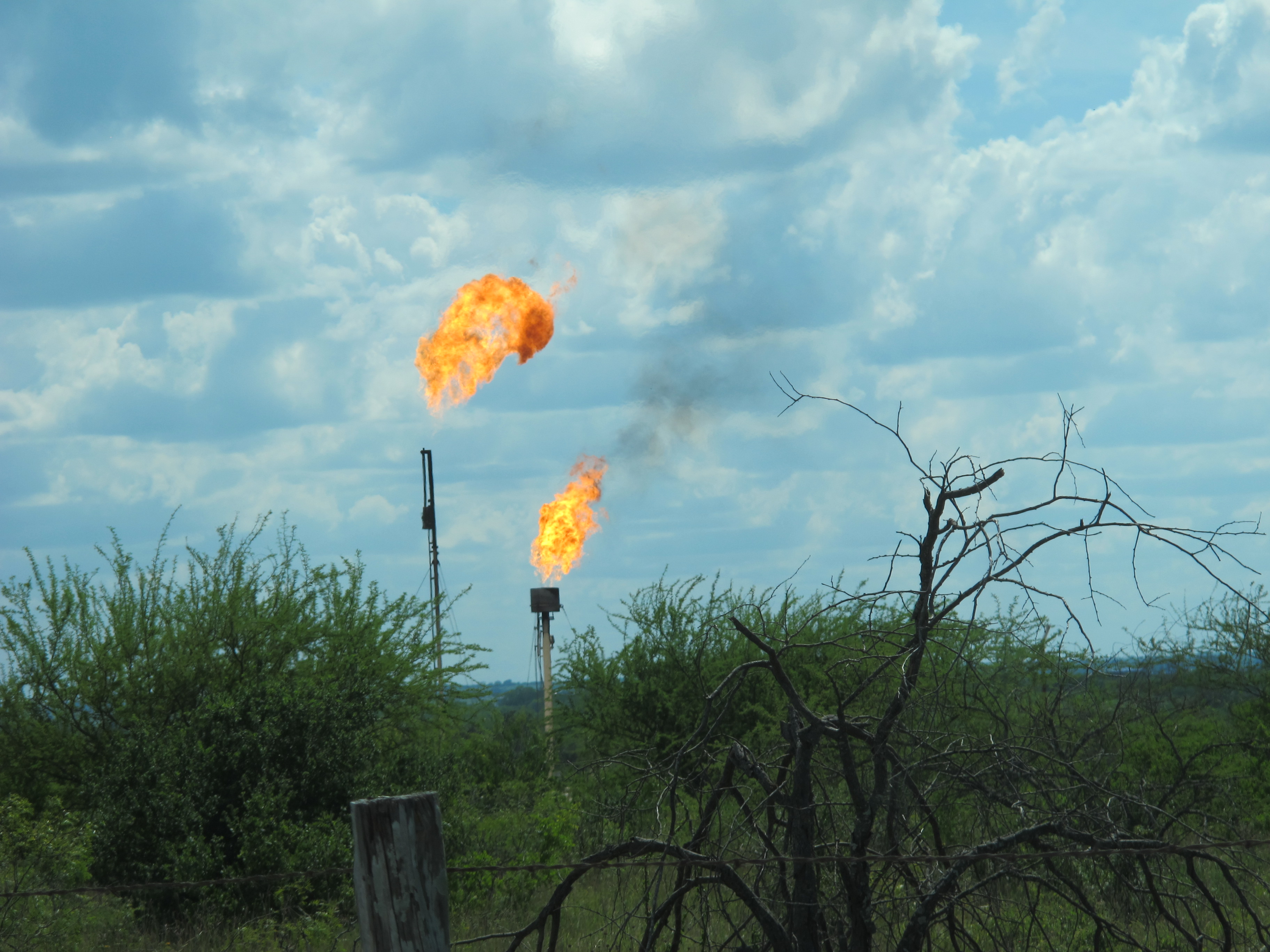 Flare stacks burning off excess natural gas from shale oil production sites in rural Southeast Texas.
We hope and believe that, once finalized and applied to development sites, draft EO100 for Shale Oil and Gas will help strengthen the voices of communities and lead to more responsible practices that preserve environmental and public health. Voluntary site certification won't eliminate the risks of shale development and fracking, but it could go a long way toward reducing them and giving the concerns and preferences of affected people greater influence over how shale oil or gas is developed in their communities.