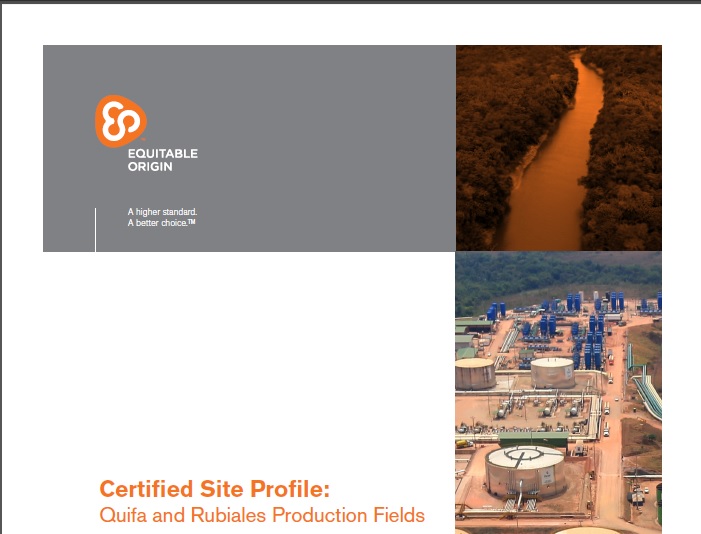 Earlier this week, Equitable Origin issued the world's first certification for socially and environmentally responsible practices by an oil production operation. The certified site, located in Colombia and operated by Pacific Rubiales Energy, achieved certification by demonstrating adherence to the EO100™ Standard for best industry practices across several categories, like Fair Labor and Working Conditions and Climate Change, Biodiversity and Environment.
How did the site certification happen? What did EO's independent auditor Deloitte Colombia find there? Keeping with our dedication to complete transparency, we've published that information on our website, in the form of a Certified Site Profile. The site profile gives some basic information about the site itself, including photos, maps, and key facts like the amount of oil it produces each day. Appended to the profile is the summary audit report for the site, which summarizes, provision by provision, how operations at the site met EO100™ standards.
We invite anyone who is interested in learning more about how Equitable Origin works and what it means to be an EO100-certified oil or gas development site to read the site profile and provide us with any feedback through our Comments, Complaints, and Appeals form. We are constantly reviewing, amending, and improving the EO100™ Standard based on experience and input from stakeholders, so the more comments we receive on specific certified sites or the certification process, the stronger the EO100™ Standard gets.
Just as we ask our certification clients to commit to continuous improvement under our standard, we are committed to continually improving our own performance to achieve ever-greater social and environmental responsibility in the oil and gas industry.