Equitable Origin Platform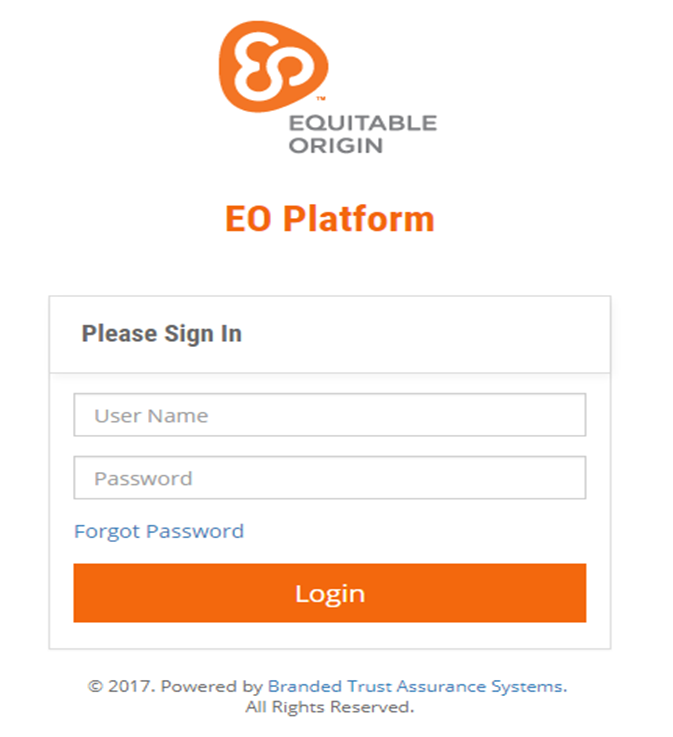 The EO Platform provides energy companies, financial institutions, utilities and corporate energy purchasers with a quick, easy and efficient way to conduct performance assessments of energy projects and suppliers against a comprehensive and customizable range of environmental, social and governance (ESG) indicators.
The EO Platform provides an online interface to access the EO100™ Performance Assessment Tool that allows users to:
Benchmark existing social and environmental policies and practices against accepted industry best practices and international standards for sustainability performance management;
Assess and score the sustainability performance of multiple projects;
Evaluate the relative performance of projects within a diversified global portfolio;
Integrate and streamline multiple standards and reporting requirements;
Communicate sustainability performance to key internal and external stakeholders;
Manage and track action planning and continuous improvement;
Request or respond to investor, supplier or customer due diligence and disclosure requirements;
Connect with companies, suppliers and investors to request or share ESG information.
The EO100™ Performance Assessment Tool enables companies to measure and manage social and environmental impacts at the project level for the purposes of tracking community engagement, implementing best practices, conducting or responding to requests for due diligence, and communicating performance to stakeholders.
EO's tools, resources and guidance can help companies achieve improved performance, whether at the corporate level, at an individual project site, or across a company's entire project portfolio.
The EO Platform is a one-stop resource center that equips companies with the tools to effectively implement and track due diligence and compliance within their operations, supply chains, and investment portfolios.
Subscription Levels
The EO Platform offers three levels of subscription. Pick which level is right for you:
Subscription Level:
Basic
$50/month
Premium
$200/month
Enterprise
$500/month
Send or receive assessments to/from business units
1-3
4-10
Unlimited
User accounts
1-3
4-10
Unlimited
Performance management dashboard
Confidential document storage
Share assessments with your stakeholders on the Platform
Customize your assessment

Available for an additional fee


(up to 5 additional criteria)

(up to 10 additional criteria)
User training on the Platform via access to pre-recorded webinars
Dedicated Project Manager to handle account set-up, customization, initial team training via live webinar, continuous improvement planning and troubleshooting, etc.
Troubleshooting

(within 3 business days)

(within 24 hours)
Continuous improvement planning

Available for an additional fee

Benchmark analyses

Available for an additional fee

Standard benchmark analysis
Customized, key-issue benchmark analysis
Guided assessment and verification services

Available for an additional fee
Not sure which subscription level is right for you? Contact us: [email protected]
Get started with our one-page Quick-Start Guide to the EO Platform.
Download a one-page description of the EO Platform and the benefits for your business.
The EO Platform that hosts the EO100™ Performance Assessment Tool was designed by sustainability software experts Branded Trust Assurance in partnership with EO.