For more information about our FPIC work, click here.
Para español, ver más abajo.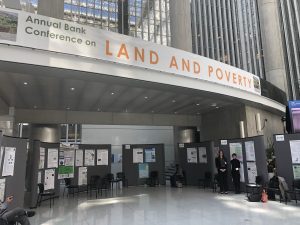 Equitable Origin staff Soledad Mills and Emma Hague attended the World Bank Land & Poverty conference at the end of March 2019, where EO was invited to present a poster and a masterclass on our FPIC-360° Tool for Monitoring and Verification.
The conference brought together over 1500 participants from academia, government, business and civil society to explore the latest research and discuss issues including land rights, land governance, food security, access to land tenure and respect for indigenous peoples in land use planning. This year the overarching theme was 'Catalysing Innovation,' which focused particular attention on how technology and data generation could be used to facilitate more equitable development outcomes, including the use of satellite imaging, drones and community monitoring systems for verifying company and/or state compliance with proposed development plans.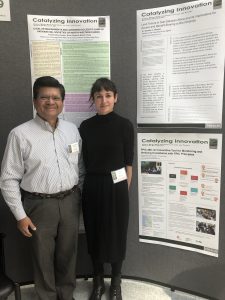 Above: Luis Felipe Duchicela and Emma Hague at the World Bank Land and Poverty Conference
As part of this year's thematic focus, EO had the opportunity to facilitate a deep-dive masterclass, presented by Emma and chaired by Luis-Felipe Duchicela, former Global Advisor on Indigenous Peoples at the World Bank. Participants included senior representatives of governments, international finance institutions and NGOs as well as various departments of the World Bank. We used the masterclass to introduce the FPIC-360° tool and to share the key findings from the research that we conducted to build the tool, before going through the framework step by step and facilitating a discussion around how it could be applied in the context of World Bank projects.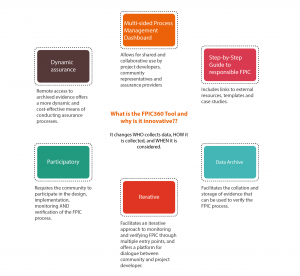 FPIC is an important topic at the moment in the context of World Bank-funded projects: In October 2018, the World Bank launched a new Environmental and Social Framework (ESF), which replaces the former Safeguard Policies for helping the World Bank and its borrowers to better manage potentialrisks of projects and to improve development outcomes. For development that may impact on Indigenous Peoples, this represents a key milestone in World Bank investment project financing, as the new Environmental and Social Standard 7 (ES7) "Indigenous Peoples/Sub-Saharan African Historically Underserved Traditional Local Communities," contains an explicit requirement for FPIC to be achieved in advance of any project which may have adverse impacts on Indigenous Peoples' land, natural resources (including those under customary use), cultural heritage, spiritual or ceremonial aspects of the affected community and in situations where the project would require Indigenous Peoples to be relocated. 
---
Soledad Mills y Emma Hague, de parte del equipo de Equitable Origin, asistieron a la conferencia  "Tierra y Pobreza" organizada por el Banco Mundial el pasado mes de marzo de 2019.  EO fue invitado a  presentar un póster y una clase para expertos  sobre nuestra herramienta de monitoreo y verificación del CLPI-360.
La conferencia reúne a más de 1.500 participantes de los mundos académico, gubernamental, empresarial, y de la sociedad civil para explorar sobre estudios recientes y discutir temas como los derechos a la tierra, a la gobernanza de la tierra, a la seguridad alimentaria, al acceso justo a la tenencia de la tierra y al respeto por los pueblos indígenas en la planificación del uso de la tierra. Este año, el tema principal fue 'Catalizar la Innovación,' centrándose especialmente en el uso de la tecnología y la generación de datos para lograr resultados de desarrollo más equitativos, incluidos el uso de sistemas de imágenes de satélites, drones y monitoreo comunitario para verificar que las empresas y/o el estado estén cumpliendo con los planes de desarrollo propuestos.
Como parte del enfoque temático de este año, Equitable Origin facilitó una clase de expertos, presentada por Emma y presidida por Luis-Felipe Duchicela, ex Asesor Global sobre Pueblos Indígenas en el Banco Mundial. Entre los participantes se encontraban representantes de alto nivel de gobiernos, instituciones financieras internacionales y ONGs, así como diversos departamentos del Banco Mundial. La clase sirvió para presentar la herramienta CPLI-360 y compartir los hallazgos claves de la investigación que realizamos para construir la herramienta, antes de revisar la metodología de aplicacíón paso a paso y facilitar una discusión sobre cómo podría aplicarse en el contexto de Proyectos del Banco Mundial.
El CLPI es actualmente un tema importante, sobre todo en el contexto de los proyectos financiados por el Banco Mundial: en octubre del 2018, el Banco Mundial lanzó un nuevo Marco Ambiental y Social (MAS), que reemplaza a las Políticas de Salvaguardia para ayudar al Banco Mundial y sus prestatarios para gestionar mejor los riesgos potenciales en los proyectos y lograr mejores resultados en el desarrollo. En el caso de proyectos de desarrollo que pueden afectar a los Pueblos Indígenas, el CPLI-360 representa un logro clave en la financiación de proyectos de inversión del Banco Mundial, ya que el nuevo Estándar Social y Ambiental 7 (ES7) "Pueblos indígenas/Comunidades locales tradicionales históricamente desatendidas de África Subsahariana" contiene un componente para que se logre el CLPI antes de empezar cualquier proyecto que pueda tener impactos adversos en el territorio, en los recursos naturales (incluidos los del uso consuetudinario), el patrimonio cultural, los aspectos espirituales o ceremoniales de los pueblos indígenas y en situaciones en las que el proyecto exigiría que pueblos indígenas sean reubicados.